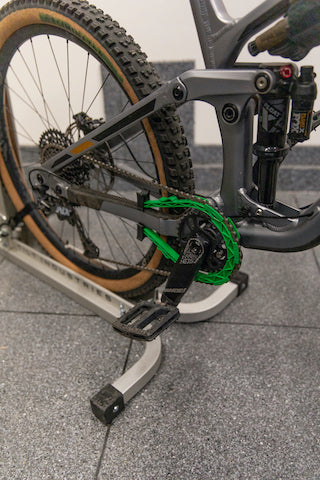 TILT Industries
Chain Clutch
Sale price Price $19.99 Regular price Unit price / per
Free Shipping in continental US on orders over $35! Limited Time!
In stock! Ships in 2-3 business days.
Get the most out of your Tilt Balance Trainer without the need to remove your chain. The patent-pending Chain Clutch is easily installed and removed by simply slipping it over your front chainring and under your chain. This decouples your cranks from your drivetrain and provides the most authentic and challenging balance training experience.
Features:
Adjustable chainstay pads to account for a wide range of chainstay widths.
Super durable, fiberglass-reinforced polymer to last forever.
Fits all 1X drivetrain systems.
Not compatible with:

Front derailleurs
Chain guides
Some idler pulley suspension designs
Single speed drivetrains without a tensioner
Chainrings larger than 36T